Beverly Fergusson, LPGA






Beverly is a nationally recognized golf instructor who gives golf lessons to men, women, and juniors in North County San Diego, CA. She teaches at The Bridges at Rancho Santa Fe, a private club, and also at The Hodges Golf Improvement Center in Escondido, CA. Published author, guest speaker, corporate golf instructor, and co-owner of the Insight Schools. Beverly is also the proud mother of a New York actress, Robin Galloway.

Education:
BA Degree from Guilford College in Greensboro, NC

Masters of Education Degree from the University of North Carolina at Greensboro

Titleist Performance Institute Certified Golf Fitness Instructor

Cofounder of Business Women's Golf*Link, a 300 member professional women's golf association in the Washington, DC area
Teaching Experience:
28 years experience teaching golf all over the world (Germany, Korea, Hawaii, the Caribbean)

Director of Instruction at LPGA International,
Headquarters of the LPGA, Daytona Beach, FL
Helped create the teaching program at Tournament
Players Club at Avenel, in Potomac, MD

Gave lessons at Accelerized Golf of Wilmington in Wilmington, NC
Professional Associations:
Life Member of the LPGA Teaching and Club Professional Membership

Member of the EWGA (Executive Women's Golf Association)

Past President of the Northeast Section of the LPGA Teaching & Club Professional Membership

Recognitions:
Voted one of the LPGA's 50 Best Teachers

Top 50 Teacher in America by

Golf Range Magazine

Top 50 Teacher by

Golf for Women Magazine

Nominated Top 100 Instructor by

Golf Magazine

LPGA Northeast Section Teacher of the Year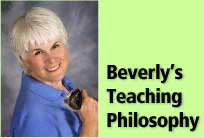 "First of all, I teach PEOPLE: not just women, men, or juniors. My philosophy for teaching the game is a student based approach. A golf lesson is a collaboration between instructor and student. The goal of the student is the most important element in golf instruction. I feel that once the goals are established and communication begins between the student and instructor, the set-up is the most important component in producing consistent, desirable, golf shots. I am a firm believer that ALL people can play the great game of golf!"

Beverly's approach to teaching golf:
Find out what the student wants

Help student set realistic, achievable goals.

Assess physical limitations that may cause swing inefficiency.

Find out what the student is doing to cause undesirable ball flight/scoring.

Help design a plan for necessary swing and game improvements

Guide self discovery
In her own words...
I was born and raised in Greensboro, NC. My golf exposure began at the early age of 10 years old (now, an early age would be 2!). My parents were active members of Starmount Forest Country Club where the Greater Greensboro Open was first played in 1938. I grew up watching all the great players who came to this tournament....Ben Hogan, Sam Snead (who won this tournament eight times in his career), Byron Nelson, Gene Littler, and many other great players. "This looks like fun! I want to do this when I grow up", I told my parents.

I took junior golf lessons and learned to play golf from the pro at the club. In those days, not that many girls played golf. I read about players like Patty Berg, Babe Zaharias and Louise Suggs. But where were the girls my age? There were several boys at the club who played every day. One of these was Joe Inman, who later played on the PGA Tour and now the Champions Tour. He and Charlie Snipes wanted nothing to do with me...I was a girl! But because my mother was the Women's Club Tournament Chairman, I had many adult women I could play with. Marge Burns, NC Golf Hall of Fame member, taught me for many years.

I graduated from Guilford College in Greensboro in 1970 with a degree in Sociology/Psychology. Golf scholarships for women were non-existent in those days and women's golf teams were hard to find. Guilford didn't have a women's team, but I took golf in PE and of course made an A! In fact, my first golf teaching experience came when Mrs. Steele, the PE teacher, asked me to help her teach the golf class (teacher's pet!).

I later went on to grad school at the University of NC at Greensboro and received a Masters Degree in Education in Guidance and Counseling. My emphasis was in student personnel at the college level, with career counseling as my interest. During my internship I kept telling my students to "pick out something you love to do and get paid for it." Having a higher degree in Education helped me know how people learn, how to help motivate, how to listen to the needs of my students, and how to help guide self-discovery.

After graduating I married a career Army officer and began a wonderful life traveling and living around the world. My one request of my husband was that a golf course be nearby wherever we lived. Tom and I had our only daughter, Robin, while we were stationed at Ft.
Leavenworth, Kansas.

My golf instruction career began when we were stationed in Wurzberg, Germany. The Officers Wives Club wanted to offer golf lessons, there was a nine-hole course nearby. I was a good amateur player so I was the logical person for the Commander of the Post to choose. My teaching career began! Not only did I teach American golfers but I also taught our German counterparts. Some didn't speak English, so I quickly had to learn ways to communicate other than orally! I loved it!! I showed them visually and got them to feel the proper positions.

Back to the US, I continued to teach golf in Ft. Leavenworth, KS. Our next assignment was Seoul, Korea...and of course they had a golf course within walking distance of my home. Golf lessons were plentiful. Seoul is a very international city so I taught people from all over the world....ambassadors, political personnel, soldiers, and even a "Madame" of an upscale Night Club in Seoul. ( I didn't even know what a "Madame " was....but then I am from the South!) Some brought their interpreters to the lesson. I loved the challenge of communicating the golf swing and playing the game.

I joined the LPGA Teaching & Club Professional Membership when we moved to Honolulu, HI in 1988. After two years in paradise, I took a position as a Teaching Professional at the Tournament Players Club at Avenel, home of The Kemper Open, in Potomac, MD, near Washington, DC. I was back at a club that held a PGA Tour event! I helped create the teaching program there with Steve Bosdosh, PGA. I also joined with five other businesswomen as a co-founder of a 300-member organization called BusinessWomen's Golf*Link(tm). I was the Director of Golf Education and later President of this networking organization.

After 7 wonderful years at TPC at Avenel, I was hired as the first Director of Instruction at LPGA International, Home of the LPGA Headquarters, in Daytona Beach, FL. I was now teaching at a facility that held a LPGA Tour event, The LPGA Titleholders Championship. Developing clinics and schools, working with college teams, teaching in clinics for golfers with disabilities, and being involved in the LPGA Girls Golf Club furthered my involvement in the education of the game.

Life now finds me in southern California, where the weather doesn't get any better and the golfers are as much fun--and need as many lessons--as anywhere else! I am still active in business women's golf schools, traveling golf schools across the country, junior instruction, men's and women's groups, and helping as many golfers as I can.

From teaching small junior golfers to teaching experienced professional Tour players, the game is the same. Someone has to teach the game to help make the game grow. So I took my own advice of many years ago in grad school, "pick out something you love to do and get paid for it!' I LOVE teaching golf and I love helping my students achieve their golf goals.

My parents saw my dream from those early days at Starmount Forest Country Club come true....however, my calling was to teach this great game of golf!

Back to top